MAG250 IPTV Set Top Box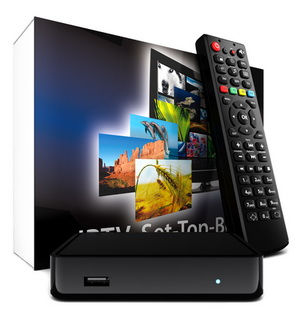 MAG250 Micro set-top box is our most popular solution combining the widest technical capabilities demanded by broadband operators with unrivalled user-friendliness for end consumers interested in interactive digital TV.
Supporting video streaming, video on demand, and HD quality for digital channels (Full HD 1080р), MAG250 meet all up-to-date requirements for multimedia solutions.
External Interfaces
MAG250 is equipped with 2 USB ports for easy connection of a Wi-Fi adaptor and wireless Internet access, media content playback from video and photo cameras and other media devices, recording to external storage media. HDMI and S/PDIF outputs provide the best audio and video quality.
Internal Portal
JavaScript API-based internal portal presents the most important functions of MAG250 set-top box: audio and/or video content playback from LAN or the Internet, handling subtitles and different transport protocols, UPnP, SAMBA, audio track selection, video window control, set-top box configure and set-up.
Copyright and Access Management
MAG250 is integrated with global systems of content protection including Verimatrix and Secure Media. The device supports remote control, monitoring and set up (partly using JavaScript API).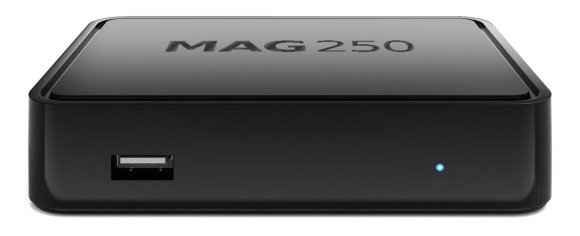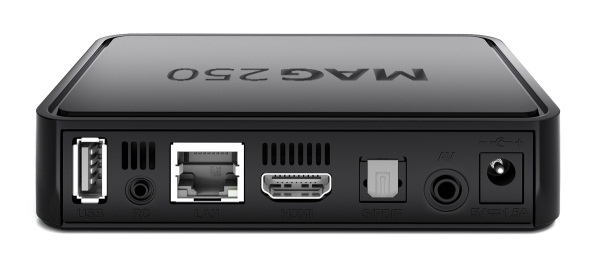 Specification
Operating system
linux 2.6.23
External Interfaces
Audio output S / PDIF, HDMI 1.3 (rear), USB 2.0 (1 front and 1 rear), Composite + Stereo A / V output (Micro jack connector on the rear), Ethernet, 100Mb / s (rear) connector for power supply 5V (rear), LED-display (front panel)
Sources of media content
External Hard Drive (USB), USB devices (USB flash drive, USB-card reader, etc.), PC and NAS in local network (SMB, NFS, UPnP, HTTP), other Internet and local television networks (HTTP, multicast UDP / RTP), video streaming services are fully supported
DRM option
Verimatrix, Secure Media
Video modes
1080i,1080p,720p,576p,PAL,NTSC
Video codecs
MPEG1 / 2 MP @ HL, H.264 HP @ level 4.1, MPEG4 part 2 (ASP), WMV-9 (optional), VC1 video, XviD; HD video supporting (up to 40 Mbit / s and above)
Video formats
MKV,MPEG-TS,MPEG-PS, M2TS, VOB, AVI, MOV, MP4, ASF, QT, WMV (optional)
Audio codecs
MPEG-1 layer I / II, MPEG-2 layer II,MPEG-2 AAC (optional), MPEG-4 AAC LC 2-ch/5.1ch (optional), MPEG-4 AAC + SBR 2-h/5.1ch (optional), Dolby Digital
Audio Formats
MPA, M4A, WMA (optional), Ogg, WAV,AC3,AAC
Image formats
JPEG, PNG, BMP, GIF,RAW
Subtitles
DVB, SRT (support coming soon), built-in text
File Systems
FAT16/32, NTFS (read), NFS, Ext2, Ext3
Wi-Fi
Optional USB WIFI dongle (not included)
Stream media protocols
RTSP, RTP, UDP, IGMP,HTTP
Software
fully compatible with the MAG100, MAG250, MAG250 (P) (API JS, API C)
built-in media portal functionality with IPTV
HTTP 1.1, HTML 4.01 XHTML 1.0/1.1
DOM 1, 2, 3, CSS 1, 2, 3
XML 1.0, XSLT 1.0, XPath 1.0
SOAP 1.1
JavaScript ECMA-262, revision 5
Media JavaScript API
C layer SDK
Middleware supported
Stalker, OFT-Media, Netup, SmartLabs, Netris, ZTE
 
Supports VoD
espial-Kasenna, Bitband, ARRIS (C-COR), Live555
Dimensions (w/d/h), mm.
125/86/28
Weight, gr.
156 (with packaging: 620)
Packing list
MAG250 Micro set-top box, user manual, Micro jack cable at the RCA (A / V); power adapter 5V 1.5A, remote control, 2 AA batteries, packaging.